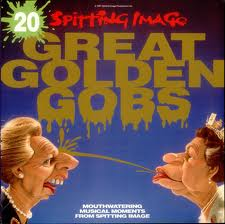 20 Great Golden Gobs was a Spitting Image album released in 1990.
Track listing
Edit
Main Voices:
Backing Vocals:
Patrick Booth, Steve Brown, Mary Cassidy, Jimmy Chambers, Nick Curtis, Stehanie De Sykes, Rick Driscoll, Lance Ellington, Brian Engel, Clive Griffin, Mitch Hiller, Sonia Jones, Carol Kenyon, Steve Lange, Julian Littman, Gary Martin, Phil Nice, Tessa Niles, Maggie Ryder, Scobie Ryder, James Simpson, Miriam Stockley, Linda Taylor, Rachel Taylor, Carl Wayne, Suzie Webb
Writers:
Music by:
Musicians:
Chris Ainsworth, John Barclay, Guy Barker, Gary Barnacle, Pete Beachill, Stuart Brooks, Damon Butcher, Pete Cooper, Les Davidson, Chris Davis, Martin Drover, Dave Early, Malcolm Griffiths, Steve Henderson, Martin Loveday, Sean Lyons, Richard Marcangelo, Celia Nicklin, Philip Pope, Kevin Powell, George Robertson, Alan Ross, Geoff Seopardie, Steve Shone, Neil Sidwell, Adam Sieff, James Simpson, Chris Standing, Vince Sullivan, John Thirkell, Pete Thoms, , Philip ToddChris White, Tim Whitnall, Neal Wilkinson, Dave Woodcock, Gavin Wright
Artwork
Art Director:
Caricaturist:
Design:

Point Three Design Consultants

Sleeve Jottings:
Typesetting:

White Light
Engineer:
Engineer, Remix:
Project Co-ordinator:
Photography:
Producers:
References
Edit
Ad blocker interference detected!
Wikia is a free-to-use site that makes money from advertising. We have a modified experience for viewers using ad blockers

Wikia is not accessible if you've made further modifications. Remove the custom ad blocker rule(s) and the page will load as expected.