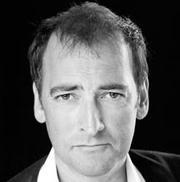 Alistair McGowan
(born 24 November 1964) is an English impressionist, actor, comedian, singer and writer. He is best known for his show
The Big Impression
.
Between 1991 and 1996 he did voices in Spitting Image, mostly the roles that Chris Barrie had done.
Characters
Edit
This list is incomplete.
Danny Baker
David Beckham
Gordon Brown
Ming Campbell
George Carey
John Cole
David Coleman
Chris Eubanks
Norman Fowler
Noel Gallagher
Al Gore
Michael Howard
Simon Hughes
Peter Mandleson
David Mellor
Alex Salmond
Norman Tebbit
Boris Yeltsin
Terry Wogan
Ross Geller
External Links
Edit
Ad blocker interference detected!
Wikia is a free-to-use site that makes money from advertising. We have a modified experience for viewers using ad blockers

Wikia is not accessible if you've made further modifications. Remove the custom ad blocker rule(s) and the page will load as expected.