Jeffrey Archer (1940) is a British author, playwright and Conservative Party politician.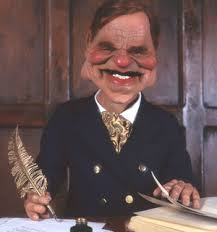 Portrayal on "Spitting Image"
Edit
Archer was frequently lampooned on the show as a vile, self-important, arrogant man who always tried to impress his environment with his upper class roots. He often spoke in literary terms, starting a sentence and then adding "said the succesful author/politician/...".
Ad blocker interference detected!
Wikia is a free-to-use site that makes money from advertising. We have a modified experience for viewers using ad blockers

Wikia is not accessible if you've made further modifications. Remove the custom ad blocker rule(s) and the page will load as expected.