Madonna (1958) is a world famous pop singer.
Portrayal on Spitting Image
Edit
In some sketches she was shown having a singing belly button. In almost every appearance she changed her hairstyle and clothing. One memorable sketch shows her desperately trying to be noticed by a crowd of people, but nobody recognizes her. Eventually she shows her breasts, whereupon everybody recognizes her again.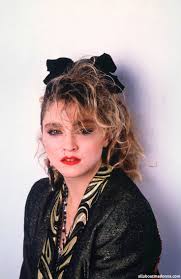 Her failed marriage with Sean Penn was spoofed as well during the 1980s.
Ad blocker interference detected!
Wikia is a free-to-use site that makes money from advertising. We have a modified experience for viewers using ad blockers

Wikia is not accessible if you've made further modifications. Remove the custom ad blocker rule(s) and the page will load as expected.