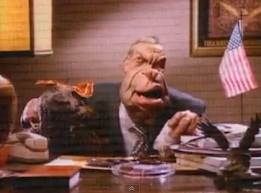 Richard Nixon (1913-1994) was President of the United States between 1969 and 1974. He was forced to resign as President, due to his involvement in the Watergate affair.
His puppet was created for the first season of "Spitting Image". One sketch features him playing cards with Ronald Reagan and Henry Kissinger.
He also appears in the Land Of Confusion music video.
Ad blocker interference detected!
Wikia is a free-to-use site that makes money from advertising. We have a modified experience for viewers using ad blockers

Wikia is not accessible if you've made further modifications. Remove the custom ad blocker rule(s) and the page will load as expected.