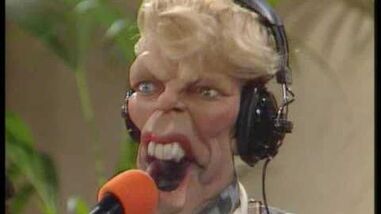 "We're scared of Bob was a spitting Image comedy sketch parodying the Live Aid and USA For Africa song "We Are The World". It features puppets of the actuals musicians who recorded the actual "We Are The World song" e.g. Cyndi Lauper and Tina Turner.
The sketch was portrayed as a parody of the Band Aid / USA for Africa charity records with the various artists suggesting they're only making the record because they were too afraid to say no when Bob Geldof asked them - even the ones who shouldn't have been on the record because they weren't even pop singers, but Geldof had dialled a wrong number.
Ad blocker interference detected!
Wikia is a free-to-use site that makes money from advertising. We have a modified experience for viewers using ad blockers

Wikia is not accessible if you've made further modifications. Remove the custom ad blocker rule(s) and the page will load as expected.